Parents are needed at the next 8th grade Parent meeting April 7th, at 5:00 pm, in room 14 at BGMS. Parent bake sale is April 16th from 10 a.m. to 2 p.m. in front of Grocery Outlet, please help. Thank you.

Hello BGMS Parents, Guardians, and Caregivers, Soccer and Softball sign ups begin tomorrow in the main office. Students interested in being part of these teams, must sign up this week. The BGMS School Site Council will meet tomorrow, Monday, at 3:30 pm. All parents are invited to attend this virtual meeting, just call the office and ask that the link be sent to your email. This week the Sexual Education unit begins in all Science classes and Physical Education classes will begin Fitness testing. Wednesday there will be a very important district DELAC meeting for all parents of English Learners. The meeting will be in person at the BGMS cafeteria, at 6:00 pm. This meeting is to discuss the English Learner program at all WUSD schools. Wrestlers will travel to Fort Bragg Middle School for their meet on Saturday, beginning at 9:00 am. You should receive the grade report card for trimester 2, at home in the mail, by Friday of this week. Friday has become a regular student attendance day. It is no longer a snow day. Ms. Munguia Hola padres, tutores y cuidadores de BGMS, Las inscripciones para fútbol y softbol comienzan mañana en la oficina principal. Los estudiantes interesados en formar parte de estos equipos, deberán inscribirse esta semana. El Consejo Escolar de BGMS se reunirá mañana, lunes, a las 3:30 pm. Todos los padres están invitados a asistir a esta reunión virtual, solo llame a la oficina y solicite que le envíen el enlace a su correo electrónico. Esta semana comienza la unidad de Educación Sexual en todas las clases de Ciencias y las clases de Educación Física comenzarán las pruebas de Aptitud Física. El miércoles habrá una reunión DELAC del distrito muy importante para todos los padres de aprendies de inglés. La reunión será en persona en la cafetería de BGMS, a las 6:00 pm. Esta reunión es para discutir el programa de Aprendices de Inglés en todas las escuelas de WUSD. Los luchadores viajarán a la escuela secundaria Fort Bragg para su encuentro el sábado a partir de las 9:00 am. Debería recibir la boleta de calificaciones del segundo trimestre en su casa por correo antes del viernes de esta semana. El viernes se ha convertido en un día regular de asistencia estudiantil. Ya no es un día de nieve. Sra. Munguía
Covid Updates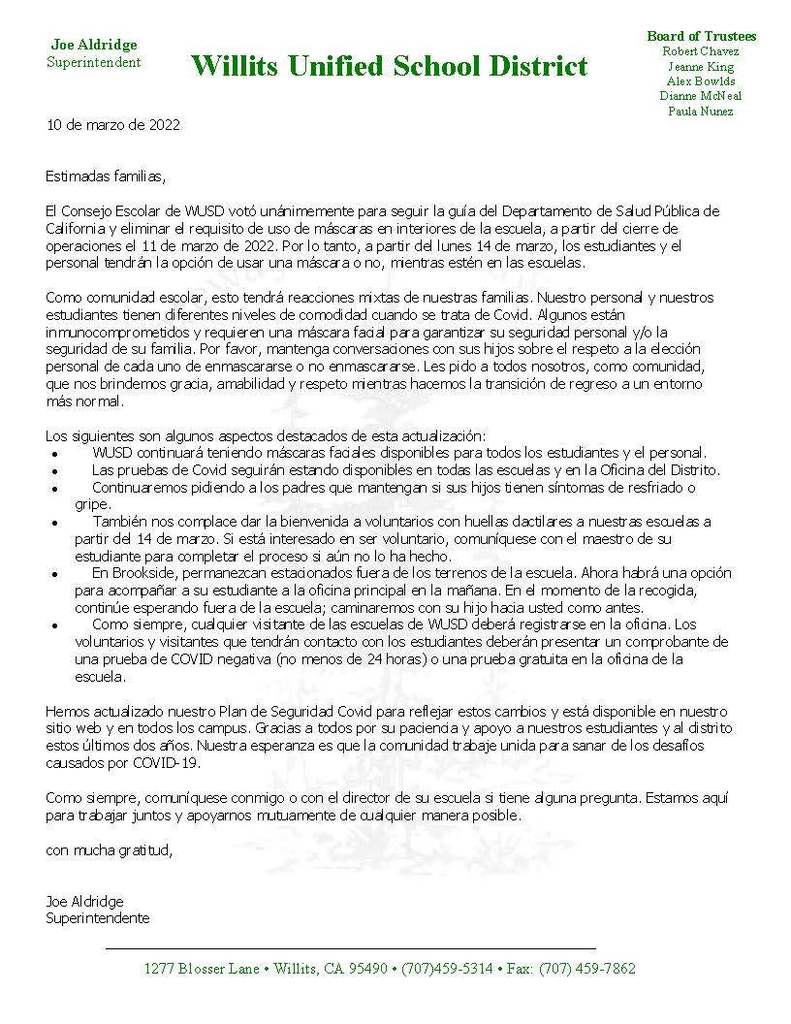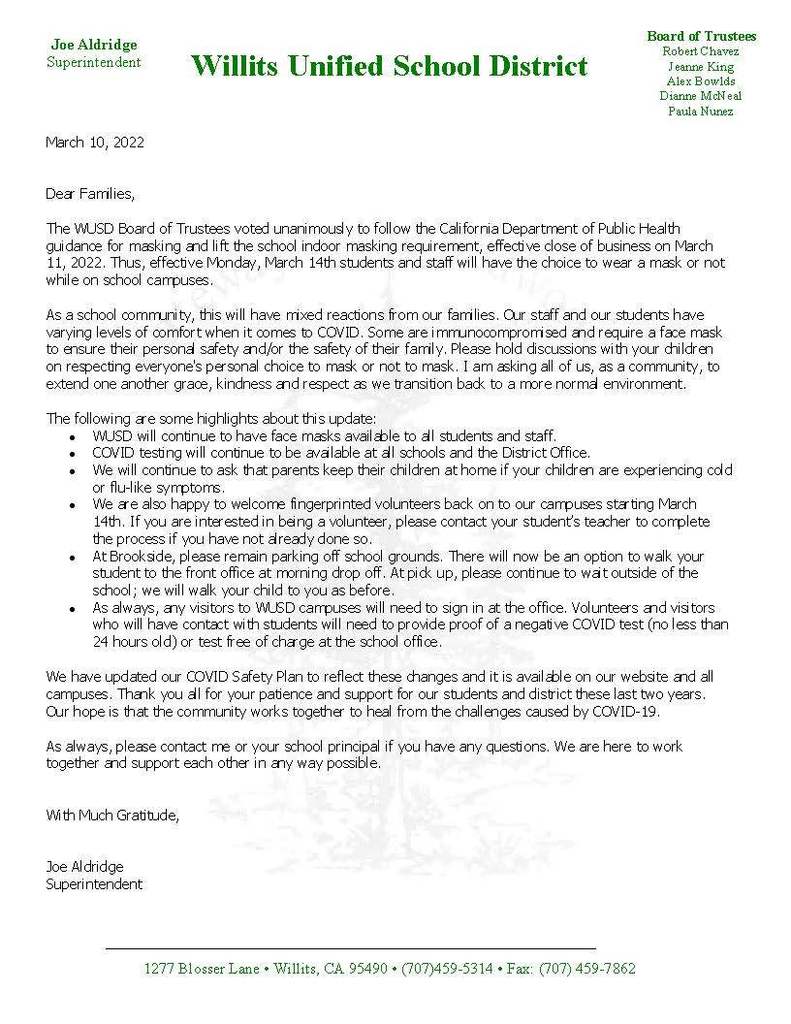 Just a friendly reminder that we will be having a 8th grade parent meeting at BGMS this evening at 5:00 P.M. in room 14. We will be discussing fund raising opportunities as well as graduation. We also need baby pictures of our 8th graders and any other extra curricular activities they may be a part of. Examples include: 4-H, Skate Park, Swim, Rodeo and any other Sports. Please email Mr. Olds at
chrisolds@willitsunified.com
. We are hoping to have all pictures in the sooner the better. Thank you

Hello BGMS Parents, Guardians, and Caregivers, At the start of trimester 3 we will be starting the Physical Education Fitness testing. This is a state requirement for five different components of fitness. We will also be starting the Comprehensive Sexual Health Unit in Science classes. The California Healthy Youth Act, which took effect January 1, 2016, requires school districts to provide students with integrated, comprehensive, accurate, and inclusive sexual health education. A parent Sexual Education information night is being held virtually this Thursday beginning at 5:30 pm at this link
https://zoom.us/j/96664342948?pwd=MGZEaVoyaFd1R2laa1lvQ28zSHNiUT09
. There is different information taught in sixth grade, and seventh and eighth grade. Parents can also expect to see the curriculum in their student's Science Google Classroom. These will be posted tomorrow. The permission slip, for 7th and 8th grade will be sent home next week. Ms. Munguia Hola padres, tutores y cuidadores de BGMS, Al comienzo del tercer trimestre, comenzaremos las pruebas de educación física. Este es un requisito estatal para cinco componentes diferentes de aptitud física. También estaremos iniciando la Unidad Integral de Salud Sexual en las clases de Ciencias. La Ley de Juventud Saludable de California, que entró en vigencia el 1 de enero de 2016, requiere que los distritos escolares brinden a los estudiantes educación sobre salud sexual integrada, integral, precisa e inclusiva. Una noche de información sobre educación sexual para padres se llevará a cabo virtualmente este jueves a partir de las 5:30 p. m. en este enlace
https://zoom.us/j/96664342948?pwd=MGZEaVoyaFd1R2laa1lvQ28zSHNiUT09
. Hay información diferente que se enseña en sexto grado, séptimo y octavo grado. Los padres también pueden esperar ver el plan de estudios en Science Google Classroom de sus estudiantes. Estos serán publicados mañana. La hoja de permiso para los grados 7 y 8 se enviará a casa la próxima semana. Sra. Munguía

Hello BGMS Parents, Guardians, and Caregivers, Thank you to everyone who supported students in the completion of their Willits Science Fair projects. BGMS had 108 entries. The Yearbook staff is requesting any sports pictures from this year that have BGMS students in them. Please email those to Mr. Olds at
chrisolds@willitsunified.com
. This is Career Awareness Week at Baechtel Grove. We are excited to let everyone know that the students in the AVID classes have prepared presentations about College and Careers for their peers, to present in first period classes. Wednesday eighth grade parents are invited to meet at 5:00 in room 14, and help plan fundraising activities to provide an end of the year field trip, and a promotion celebration dance for all our promoting eighth graders. Trimester 2 will end in three weeks. Now is the time to make sure that students are making up missed work by looking on Aeries, and attending the after school Academic Assistance classes in room 12 on Mondays, and Wednesdays, and in room 6 on Thursdays. This Sunday our wrestlers will host the Baechtel Grove Invitational meet, at Willits High School, beginning at 12:00 pm. Ms. Munguia Hola padres, tutores y cuidadores de BGMS, Gracias a todos los que apoyaron a los estudiantes en la realización de sus proyectos de la Feria de Ciencias de Willits. BGMS tenía 108 entradas. El personal del Anuario está solicitando fotos de deportes de este año que tengan estudiantes de BGMS en ellas. Envíelos por correo electrónico al Sr. Olds a
chrisolds@willitsunified.com
. Esta es la Semana de Concientización sobre Carreras en Baechtel Grove. Estamos emocionados de informarles a todos que los estudiantes en las clases de AVID han preparado presentaciones sobre la universidad y las carreras para sus compañeros, para presentarlas en las clases del primer período. Los padres de octavo grado del miércoles están invitados a reunirse a las 5:00 en el salón 14 y ayudar a planificar actividades de recaudación de fondos para proporcionar una excursión de fin de año y un baile de celebración de promoción para todos nuestros alumnos de octavo grado. El segundo trimestre terminará en tres semanas. Ahora es el momento de asegurarse de que los estudiantes estén recuperando el trabajo perdido mirando Aeries y asistiendo a las clases de asistencia académica después de la escuela en el salón 12 los lunes y miércoles, y en el salón 6 los jueves. Este domingo, nuestros luchadores serán los anfitriones del encuentro Baechtel Grove Invitational, en Willits High School, a partir de las 12:00 p. m. Sra. Munguía
BGMS will be having a 8th grade parent meeting in person on February 23rd at 5:00 p.m. in room 14 with Mrs. White. We will be discussing fundraising for the 8th grade field trip and promotion activities. Please come if you can, to help support our 8th grade students. Masks will be required. We look forward to seeing you.
Lisa always makes the cutest boards in the library. Thanks for keeping our students engaged in reading.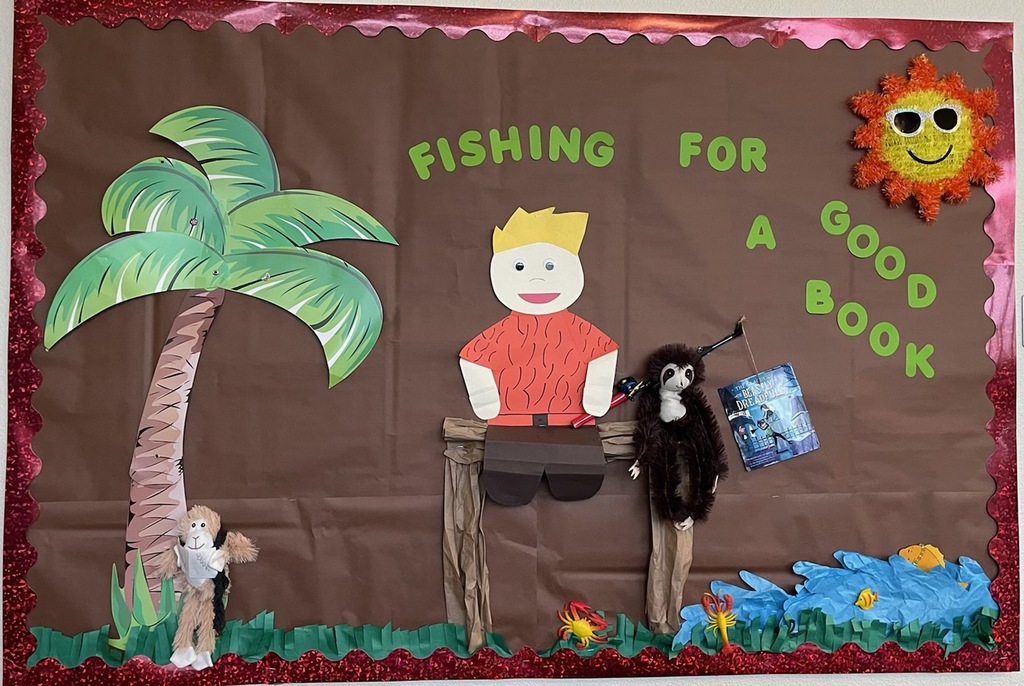 Hello BGMS Parents, Guardians, and Caregivers, Thank you to all of you who have returned a signed contract for the modified independent study days in January. It is very important that the contracts mailed to you for those days, January 26th, 27th and 28th are filled out, signed and returned to BGMS in the self-addressed stamped envelope provided. We must have that signed contract to give attendance credit to your student. All contracts returned by Wednesday of this week will make the student eligible for a merit draw prize on Thursday. Monday beginning at 3:30 the BGMS School Site Council will meet virtually. All parents are invited, if you would like the link, please call our main office, and it will be emailed to you. This is a reminder that Friday of this week and Monday of next week are both part of the President's Day holiday and there is no school. In sports, the Pomolita Takedown Tournament will take place this Wednesday beginning at 4:00 pm. Ms. Munguia Hola padres, tutores y cuidadores de BGMS, Gracias a todos los que han devuelto un contrato firmado para los días de estudio independiente modificados en enero. Es muy importante que los contratos que se le envío por correo para esos días, 26, 27 y 28 de enero, se llenen, firmen y devuelvan a BGMS en el sobre con la dirección de BGMS que se les dio. Debemos tener ese contrato firmado para dar crédito de asistencia a su estudiante. Todos los contratos devueltos el miércoles de esta semana harán que el estudiante sea elegible para un premio de sorteo por mérito el jueves. El lunes a partir de las 3:30, el consejo del sitio escolar de BGMS se reunirá virtualmente. Todos los padres están invitados, si desea el enlace, llame a nuestra oficina principal y se lo enviaremos por correo electrónico. Este es un recordatorio de que el viernes de esta semana y el lunes de la próxima semana son parte del feriado del Día del Presidente y no hay clases. En lo deportivo, el Torneo Takedown de Pomolita se llevará a cabo este miércoles a partir de las 4:00 p.m. Sra. Munguía

Hello BHMS Parents, Guardians, and Caregivers, The BGMS Wrestling season begins with a Takedown Tournament at Pomolita, on Wednesday beginning at 4:00 pm. Saturday's Elementary Championship event in Orlando is optional for the wrestlers. The event begins at 3:00 pm. All Science Fair Projects should be completed and turned in to teachers no later than tomorrow. Students have completed their intent to participate in the Willits Science Fair and their projects will be delivered to the fair this Thursday. All students will watch virtual shows of the Willits Science Fair next week. Ms. Munguia Hola padres, tutores y cuidadores de BHMS, La temporada de BGMS Wrestling comienza con un Torneo Takedown en Pomolita, el miércoles a partir de las 4:00 p. m. El evento Elementary Championship del sábado en Orlando es opcional para los luchadores. El evento comienza a las 3:00 pm. Todos los proyectos de la feria de ciencias deben completarse y entregarse a los maestros a más tardar mañana. Los estudiantes han completado su intención de participar en la Feria de Ciencias de Willits y sus proyectos serán entregados a la feria este jueves. Todos los estudiantes verán espectáculos virtuales de la Feria de Ciencias de Willits la próxima semana. Sra. Munguía

Hello BGMS Parents, Guardians, and Caregivers, We want to welcome back all of our students to BGMS. Students will turn in all their work for the last three school days today. If they need help completing the work, there will be help after school in room 12. All independent study work for the 26th, 27th, and 28th must be turned in by February 3rd. Modified Independent Study contracts were mailed to parents on the 27th, please fill out the top of the form with some basic information, then sign the front and the back and either mail it back, or have your student take it to the office. There will be Wrestling sign ups in the office on Monday, Tuesday, and Wednesday. Practices begin on Wednesday. Ms. Munguia Hola padres, tutores y cuidadores de BGMS, Queremos dar la bienvenida de regreso a todos nuestros estudiantes a BGMS. Los estudiantes entregarán todo su trabajo de los últimos tres días escolares hoy. Si necesitan ayuda para completar el trabajo, habrá ayuda después de la escuela en el salón 12. Todo el trabajo de estudio independiente para los días 26, 27 y 28 debe entregarse antes del 3 de febrero. Los contratos de estudio independiente modificados se enviaron por correo a los padres el 27, complete la parte superior del formulario con información básica, luego firme el frente y el reverso y envíelo por correo o pídale a su estudiante que lo lleve a la oficina. Habrá inscripciones de lucha libre en la oficina los lunes, martes y miércoles. Las prácticas comienzan el miércoles. Sra. Munguía
Families of BGMS students, please come get lunch for your child in the drive up circle from 11 to 1.
Attention parents, guardians and students. We are serving bagged lunches in our drop off circle today from 11:00 to 1:00. Please come get some lunch for today as well as the next two days.

Hello Parents, This is Ms. Munguia. New district protocol call for school to close when 15% of the students have a confirmed test of positive for Covid. We are closing our school and moving our students to independent study beginning tomorrow, January 26, 2022. We will close for 5 calendar days. We will resume classes on Monday, January 31, 2022. Students will follow their regular school schedule, use their Chromebooks, and teachers will post assignments into their Google Classrooms. Lunches will be available from the BGMS cafeteria in a drive up manner in the BGMS front of the school car and bus circle. Testing will be available at the district office on Friday, January 28, 2022, from 11:00 am to 3:30 pm. If you have any questions please call our main office. Hola padres, Esta es la Sra. Munguía. El nuevo protocolo del distrito exige que la escuela cierre cuando el 15% de los estudiantes tengan una prueba positiva confirmada para Covid. Cerraremos nuestra escuela y cambiaremos a nuestros estudiantes al estudio independiente a partir de mañana, 26 de enero de 2022. Cerraremos durante 5 días calendario. Reanudaremos las clases el lunes 31 de enero de 2022. Los estudiantes seguirán su horario escolar regular, usarán sus Chromebooks y los maestros publicarán las tareas en sus Google Classrooms. Los almuerzos estarán disponibles en la cafetería de BGMS en el frente de BGMS frente al círculo de automóviles y autobuses escolares. Las pruebas estarán disponibles en la oficina del distrito el viernes 28 de enero de 2022, de 11:00 am a 3:30 pm. Si tiene alguna pregunta, llame a nuestra oficina principal.

Hello Parents, Guardians, and Caregivers, We have had more students test positive this week for Covid. I want to remind you to check in with your child before sending them to school and make sure that they do not feel sick. You can always bring them to school in the morning and we can test them before they begin. Please know that your help is greatly appreciated. This is also the reason why we have cancelled the last two games of the basketball season this week, to help stop the community spread. Wrestling will begin next week, with increased testing. The after school Academic Assistance program is continuing, in room 12 on Mondays and Wednesdays, and room 6 on Thursday. Every student who failed Language Arts and Math in the first trimester should be attending at least 9 sessions. Ms. Munguia Hola padres, tutores y cuidadores, Hemos tenido más estudiantes dando positivo esta semana de Covid. Quiero recordarle que consulte con su hijo antes de enviarlo a la escuela y asegúrese de que no se sienta enfermo. Siempre puede traerlos a la escuela por la mañana y podemos evaluarlos antes de que comiencen. Por favor sepa que su ayuda es muy apreciada. Esta es también la razón por la que cancelamos los dos últimos juegos de la temporada de baloncesto esta semana, para ayudar a detener la propagación de la comunidad. La lucha libre comenzará la próxima semana, con más pruebas. El programa de Asistencia Académica después de la escuela continúa, en el salón 12 los lunes y miércoles, y en el salón 6 los jueves. Cada estudiante que reprobó Artes del Lenguaje y Matemáticas en el primer trimestre debe asistir por lo menos a 9 sesiones. Sra. Munguía

Hello Parents, Guardians, and Caregivers, We hope everyone had a good long weekend. Because Mendocino County has had a rise in positive Covid cases, testing will be available to all students if requested, on Tuesday, January 18th. Thank you to all the parents who have responded to the BGMS Parent Survey. We appreciate your time. There is still time if you would like to respond, here is the link
https://forms.gle/R7XeFod9AhHKUt4u9
. This is the sixth week of Trimester 2. Parents will be receiving progress check sheets from all of their teachers. Please talk these over with your student, looking at any low scores, and missing work. Contact the teacher by email for any questions. We are asking that all of our Parents of English Learners join us for a virtual Parent Advisory Committee meeting on Wednesday beginning at 5:30pm. Jessica has been contacting parents with the link. Call our office if you have not been contacted. Basketball plays Laytonville on Wednesday Boys at BGMS and Girls at Laytonville, beginning at 4:00 pm. ON Thursday both Girls and Boys A teams travel to Potter Valley, games start at 4:00pm. This schedule may change due to the Covid situation. Ms. Munguia Hola padres, tutores y cuidadores, Esperamos que todos hayan tenido un buen fin de semana largo. Debido a que el condado de Mendocino ha tenido un aumento en los casos positivos de Covid, las pruebas estarán disponibles para todos los estudiantes si así lo solicitan, el martes 18 de enero. Gracias a todos los padres que han respondido a la Encuesta de Padres de BGMS. Agradecemos su tiempo. Todavía hay tiempo si desea responder, aquí está el enlace
https://forms.gle/R7XeFod9AhHKUt4u9
. Esta es la sexta semana del Trimestre 2. Los padres recibirán hojas de verificación de progreso de todos sus maestros. Hable sobre esto con su estudiante, mirando cualquier puntaje bajo y trabajo faltante. Póngase en contacto con el profesor por correo electrónico para cualquier pregunta. Estamos pidiendo que todos nuestros padres de estudiantes de inglés se unan a nosotros para una reunión virtual del Comité Asesor de Padres el miércoles a partir de las 5:30 p.m. Jessica ha estado contactando a los padres con el enlace. Llame a nuestra oficina si no ha sido contactado. El baloncesto juega en Laytonville el miércoles Boys at BGMS and Girls at Laytonville, comenzando a las 4:00 pm. El jueves, los equipos A de niñas y niños viajan a Potter Valley, los juegos comienzan a las 4:00 p. m. Este horario puede cambiar debido a la situación del Covid. Sra. Munguía

Estimadas familias de WUSD: Esta semana, nuestros estudiantes y personal se han visto muy afectados por COVID. Actualmente, alrededor del 15% de nuestro personal y alrededor del 20% de nuestros estudiantes están fuera. Después de una cuidadosa consideración, hemos decidido cerrar la escuela mañana, viernes 14 de enero de 2022. Este día perdido se recuperará el viernes 18 de marzo de 2022 (día de nieve anterior). Además, como recordatorio, el lunes 17 de enero es feriado federal en honor a Martin Luther King Jr. y las escuelas están cerradas. Reanudaremos clases el martes 18 de enero de 2022. Pedimos disculpas por las molestias y agradecemos su apoyo. Gracias, Joe Aldridge Superintendente

Dear Families of WUSD, This week our students and staff have been heavily impacted by COVID. Currently about 15% of our staff and about 20% of our students are out. After careful consideration, we have decided to close school tomorrow, Friday, January 14, 2022. This missed day will be made up on Friday, March 18, 2022 (prior snow day). Also, as a reminder Monday, January 17th is a federal holiday to honor Martin Luther King Jr. and schools are closed. We will resume classes on Tuesday, January 18, 2022. We apologize for the inconvenience and appreciate your support. Thank you, Joe Aldridge Superintendent