Brookside had an electrical short in a heating blower that smolder this afternoon. The staff acted quickly got the fire department there to take care of it. It was room 19 in the west wing everything is back in place now. Thank you to the fire department for the quick service.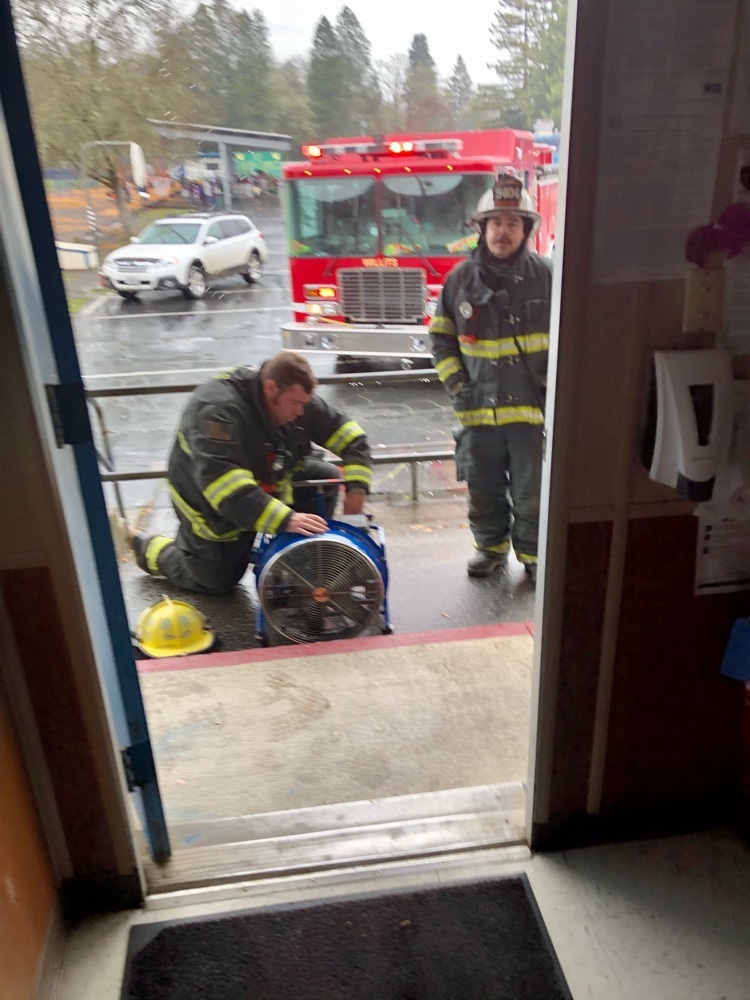 Good Morning Brookside Families. We are happy to announce that electricity has been restored to Brookside. Please contact your child's teacher if you would like more information. Thank you.

Hi Brookside Families... we have electricity at Brookside! Thank you, PG&E! We are planning to resume our schedule as it was before the storms. If your child comes to school tomorrow, it would be wise to verify with your teacher, via Dojo or email, that your teacher and/or para-educator will be there. Some people are still greatly affected by the storm. Thanks for your patience through this. We appreciate you very much and hope that you are doing well.

The Willits teachers will open up today on their online classes if they're able to and we would like students to connect if they can. We understand that there are still some power issues around town but if you have access please login.

Good evening Brookside families. Due to a power outage at Brookside School, there will be only distance learning for Brookside students. There will be no students at Brookside School on Thursday 1/27. Thank you.

Because of bad driving conditions and multiple power outages throughout the district, Willitst unified schools will be closed today.

Weather Update! Based on the expected conditions, WUSD will not have any on-site instruction on Wednesday the 27th. However, unless there is a power outage at home online instruction will continue on Wednesday as normal.
Good evening Brookside Families, Picture make-up day is tomorrow, Jan. 21st. This is a drive thru event just like last time. The times are 9-3pm.

Brookside Families, As you know, Brookside staff and teachers are not seeing students at school this week. We will be continuing that through next week, as well. We plan to resume our individual in-person instruction, beginning Tuesday, January 19th. Until the 19th, we will not be working in person with students or having in-person meetings with parents and guardians. We will still be meeting with students and families on Zoom. Our teachers of students in special education classes will let families know individually how they plan to meet with students. If you have questions about the schedule next week, please send your child's teacher an email or a message on Class Dojo, or call your teacher at 459-5385. Thank you very much for your understanding and patience. Most sincerely, Kathy Crossman, Principal

Parents and Students: We are still operating under our Seemless Summer program. Anyone who is 18 years old or younger, enrolled or not, can receive at no cost a breakfast and/or lunch. Households can pick up to five days at a time including weekends. Meals can be picked up at the Willits High School cafeteria Monday through Friday from 8am to 2 PM. Deliveries are available upon request on a daily or weekly basis. During winter break, meals can be picked up Monday and Tuesday, December 21st and 22nd and Monday and Tuesday the 28th and 29th from 8 to 2 PM. You can call the cafeteria to set up delivery or with any questions you may have at 707-459-7700 ex 1555.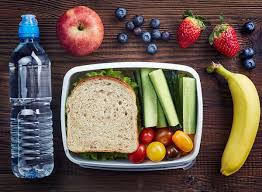 Parents and Families, in an abundance of caution, Brookside Elementary is limiting on-campus interactions for general education the week after we return from break, January 4-8. General education teachers and para-educators will not be working in person with students or having in-person meetings with parents and guardians. Teachers will still be meeting with students on Zoom and will send an updated schedule, if changes will be made. Our special education classes plan to meet as usual. If you have questions about the schedule that week, please send your child's teacher an email or a message on Class Dojo, or call the teacher at 459-5385. Thank you for your understanding and patience. Padres y familias, con mucha precaución, la primaria Brookside está limitando las interacciones en el campus para la educación general la semana después de que regresemos de las vacaciones, del 4 al 8 de enero. Los maestros de educación general y los para-educadores no trabajarán en persona con los estudiantes ni tendrán reuniones en persona con los padres y tutores. Los maestros seguirán reuniéndose con los estudiantes en Zoom y enviarán un horario actualizado, si se realizarán cambios. Nuestras clases de educación especial planean reunirse como de costumbre. Si tiene preguntas sobre el horario de esa semana, envíe al maestro de su hijo un correo electrónico o un mensaje en Class Dojo, o llame al maestro al 459-5385. Gracias por su comprensión y paciencia.
Good evening Brookside Families, Our school pictures are in. To pick them up you will need to drive to the front of the school and call the office at 459-5385 to let us know you are here. We will then run your pictures out to your car. Please do not come to the office window. Stay in your car. There will be a picture make-up day in January. We will let you know the exact date soon. Class pictures will be available shortly after the make-up day.

Good evening Brookside TK and Kindergarten Families. Please remember to return your Willits Unified School District Educational Benefit Form. This form was mailed to you before Thanksgiving Break. You can either mail it back to us with the pre paid envelope included or return it to the Brookside Office by Wednesday, December 9th. Thank you and have a nice evening.


Hello Brookside Families. Just a reminder that you have until November 30th to purchase insurance for your students new WUSD iPad or Chomebook. You will be unable to purchase insurance after this date. Insurance can be purchased online at
https://www.worthavegroup.com/gpo/willits
. Thank you and have a wonderful and safe Thanksgiving Break!

So far WUSD has only received responses representing 370 of approximately 1500 students in the district. In order for us to get a clearer picture of your wishes, we must hear from more of our families. Below are the current results. If you have not filled out the survey please click on this link.
https://www.willitsunified.com/o/wusd/page/school-reopening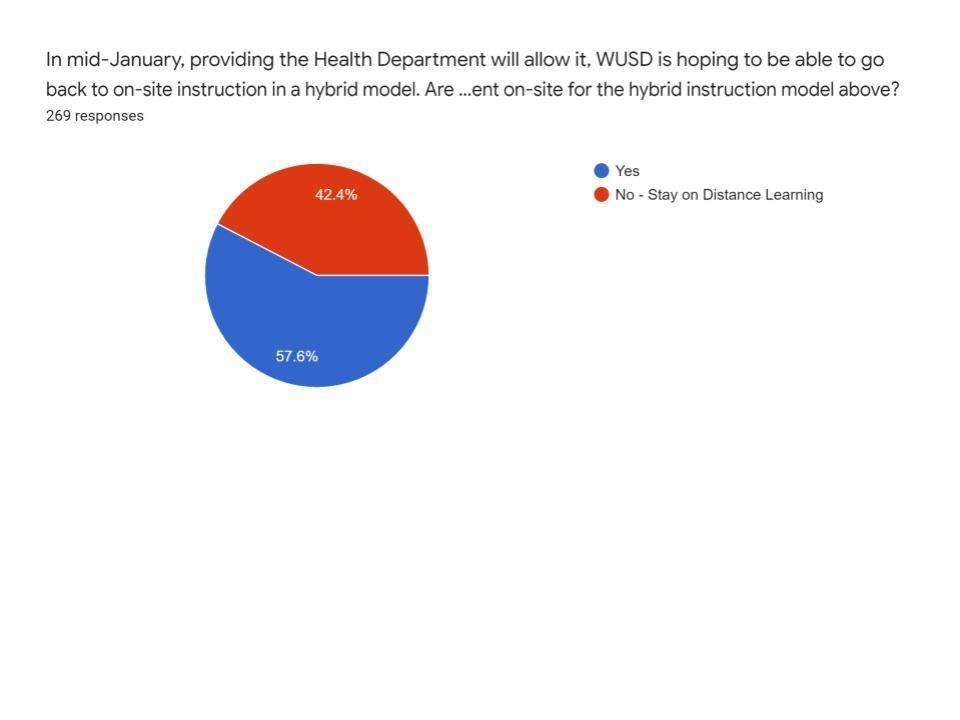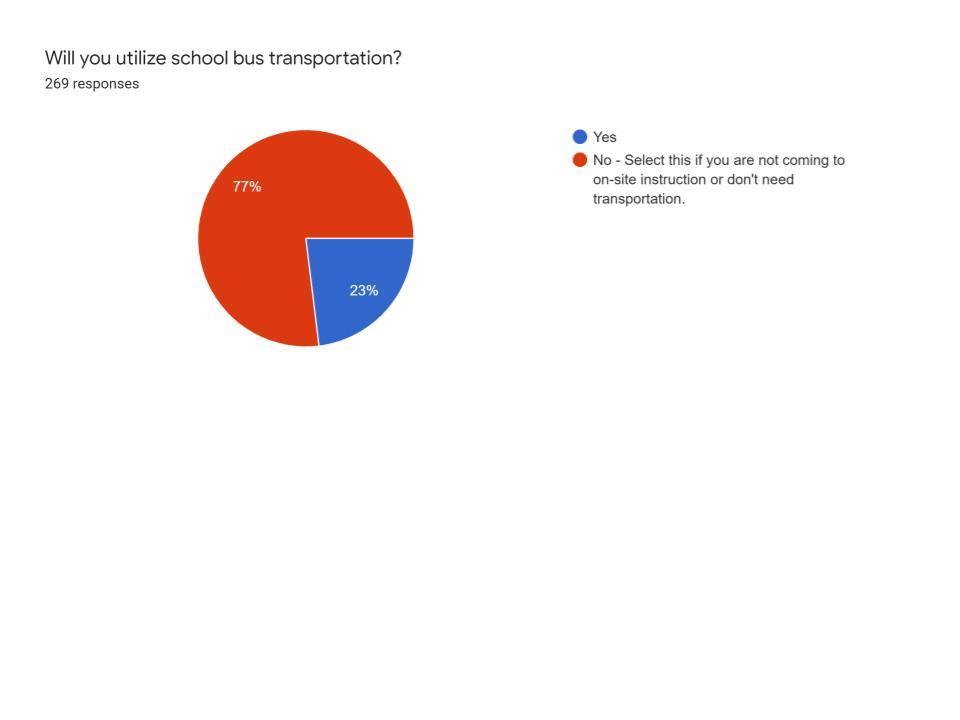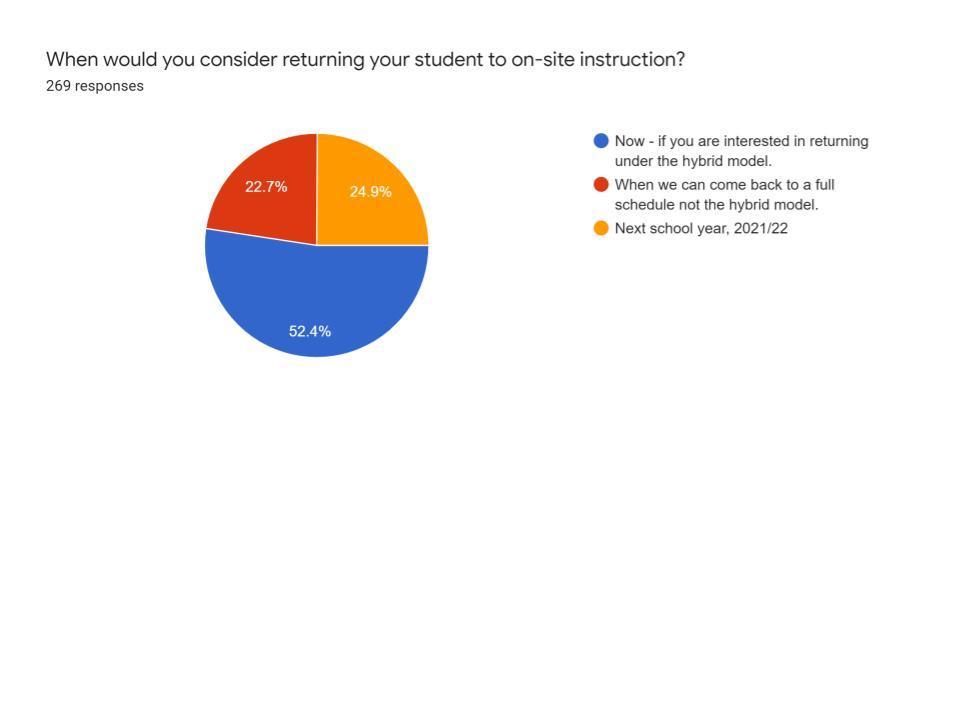 WUSD has developed a draft plan with input from administration and teachers on how to reopen schools safely. I expect that this plan will have changes to it as time, data and procedures change. A major goal before coming back on site is to develop a viable academic plan, share it with our parents and then poll our parents to determine who wants to send their students back to on-site learning. Without question, WUSD will be following all the County Health Department guidelines for example; masks will be required, social distancing as much as possible, and small cohort sizes. I envision there is a group of parents who are not going to send their child back regardless of the hybrid model we have in place and others who are passionate about getting them back in even if it's for a short period of time. WUSD wants to provide what the community needs and will have options for either on-site or to continue with distance learning. In order to provide our parents with choices it may require some staff movement and could take some time to put in place. WUSD will be doing a survey with the parents of all students to get information back to help plan for a reopen, whenever that can take place. The district has all the PPE necessary for staff and students. Every classroom will have a hospital grade air purifier and daily disinfection. Each site will have a set of health standards protocols. (Attached) At this time, COVID numbers are growing daily and reopening in a fully hybrid model is in not a good idea. The District also has several import safety items on back order, such as air purifiers. Currently WUSD is allowing students on campus to meet one on one with their teachers as needed, and providing direct services for our students with special needs. In the next few weeks, I would like the coaches to begin athletic conditioning with our students, following all the rules established by the athletic department. With the holidays approaching this is an opportune time to refine the practices and protocols. After the holidays, in mid-January we will have data to determine if it is allowable to reopen. Mark Westerburg Parent survey
https://docs.google.com/forms/d/e/1FAIpQLSdTNwoD3lYplGUpOBaDjXqVJnggfkQrExjieJOdR5_ts_jzAQ/viewform
More information and Health and Safety Protocols
https://core-docs.s3.amazonaws.com/documents/asset/uploaded_file/1005611/WUSD_Health_and_Safety_Procedures_and_Protocols.pdf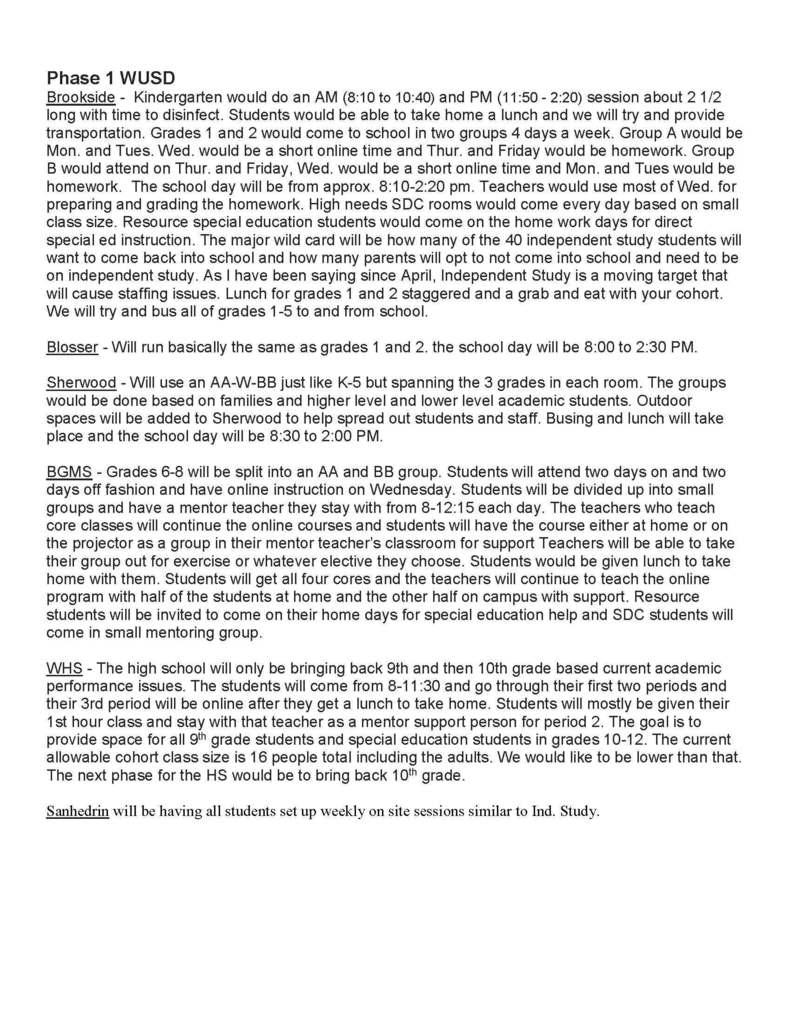 Thank you to Stan Cooley for taking his Veterans Day to come down to the track and level it out before the rains and fixing the road to the Ag. Farm.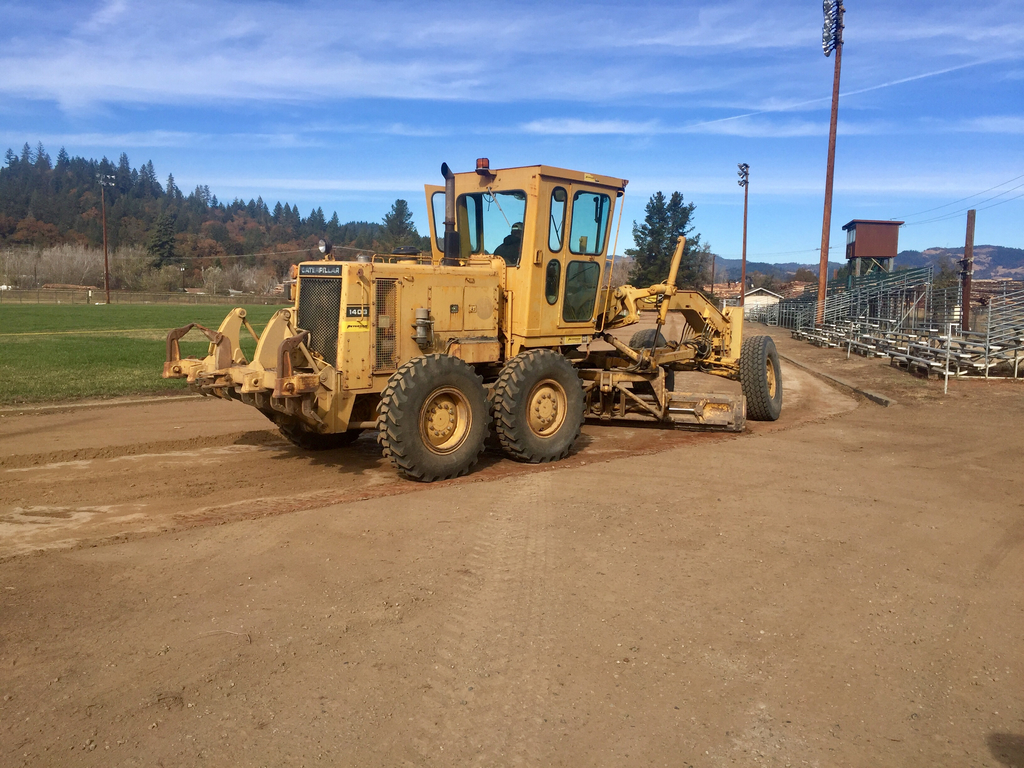 THANK YOU TO THE VOTERS The passing of Measure I will help us to fix and repair our facilities. We appreciate the vote of support.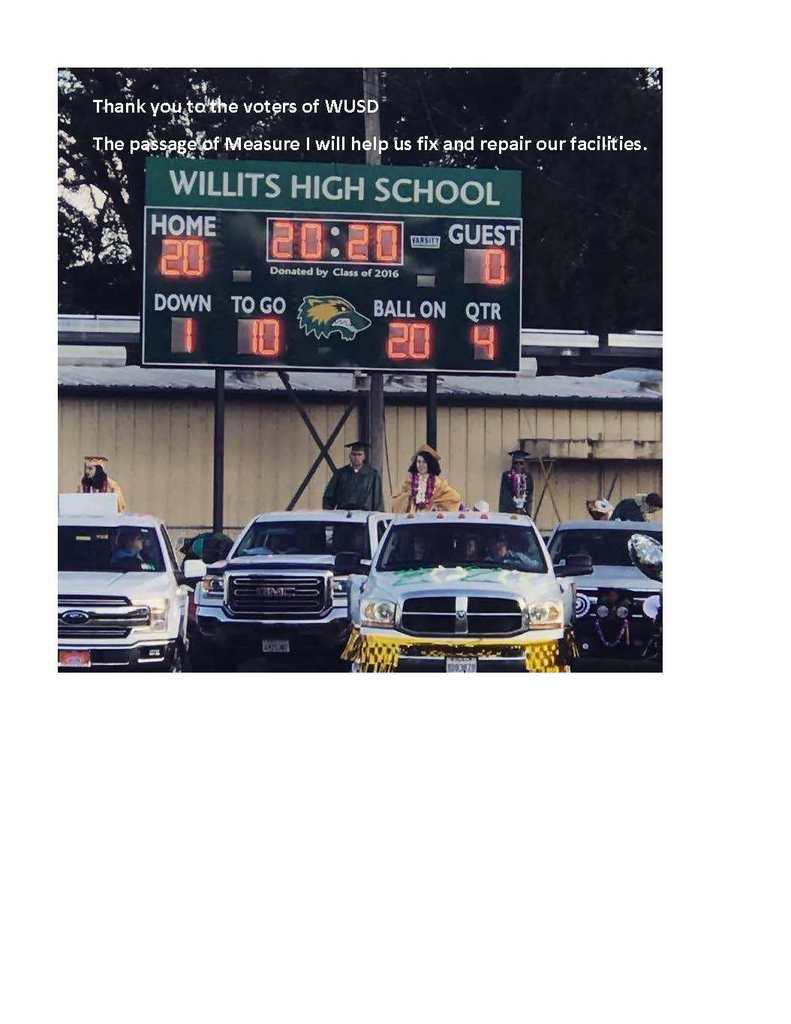 Hello Brookside first grade families, Don't forget that tomorrow is first grade picture day. The times are 8-12pm and 1-3pm.